Make a difference this Fathers day
UPDATE: We have another batch of 8 posts currently being made and will be available soon. Contact us if you want to pre-order one. Thanks to everyone who brought one, we hope your Dad loves his surprise!
FUNDRAISING UPDATE: Over $1150 has been raised (at the end of 2018) and still growing – greatly exceeding Conrad's original 'big dream' of $500. Thanks to everyone for your support so far.
Dear Mums,
Conrad is on a mission to raise $500 for charity. To do this, he's made some special garden ornaments to sell for Fathers day. If you are still looking for a Fathers day gift, here's something truly special and unique, which is also all about a good cause.
For sale are a number of stained wooden posts, with the words 'I love my Dad because he…" stylised on them. Add your own kids answers to that statement with a white paint pen (we have pens you can use), and you have a beautiful heartfelt Fathers day gift for Dad to proudly display in his garden. (photos attached).
Here's Conrad explaining in his own words:

All of the money raised from selling the posts will go to Eat My Lunch, a charity helping ensure children have access to food through their school.
Email ConradsPosts@s2.co.nz if you want one.
Many thanks,
Conrad (and a very proud Dad).
________________________________________________

What is this all about?
Conrad and I have been reading Roald Dahl stories each night. We started with Charlie and the Chocolate factory, a fun story I thought for a 6 year old… right?
But I watched as Conrad grew more and more worried about Charlie as he grew skinnier and skinnier through poverty and starvation. About a week into the book he asked me "is this real", and to my shock he didn't mean the chocolate story. I watched his little heart break as I explained there are indeed kids, in our own city, who go to School without breakfast and have no toys. Conrad immediately asked if we could give them food and toys…
Conrad and I sat down to work out how he could raise money. He quickly decided he wants to raise enough to help a whole classroom block of kids; so we've settled on aiming for whopping 100 kids, a $500 target – a big task for a 6 year old without doubt. When I asked him if there was anything he could make and sell, he immediately decided we could 'make more of Mum's mothers day present and sell them' – and so was born a cunning plan.
Together we've been rummaging through the offcut bins at Mitre 10 each week, spent an afternoon sanding and painting, and a morning etching words onto posts. It's been an amazing effort by a 6 year old which I'm so proud off… and now it's time to find homes for his artwork.
We present to you, a selection of 'I love my Dad' garden ornaments. Made from various types of wooden posts, each post lets you write all of the reasons your kids can think of as to why the love their Dad's, and it can then proudly be displayed in Dad's garden for him to see and smile at each day.
Which Charity has Conrad chosen?
Initially we found 'fill their lunchboxes' who were supporting kids in need with school lunches. $500 would feed 100 kids… however in the time it's taken us to make the posts this charity has shut down, highlighting exactly why support and donations are important for such charities.
UPDATE: Recently a news announcement alerted us to a replacement service filling this gap. Eat My Lunch will shortly be opening in Christchurch and Conrad will donate the money raised from the posts to them.

The original post we made Mum for Mothers day, all finished and proudly displayed in the garden.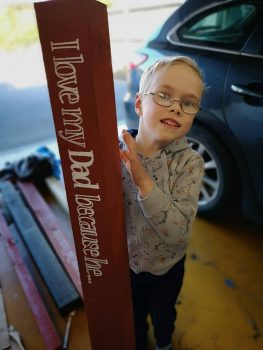 Posts vary in height, but are all roughly a kids height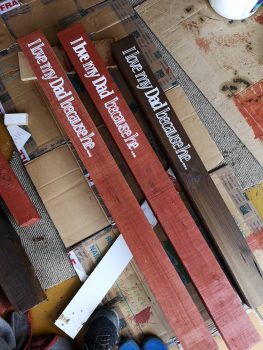 We have some in red, 2 in black available.
Finished posts heading to their new homes.